Vegan Glory
8393 Beverly Blvd, Los Angeles, CA 90048
Order now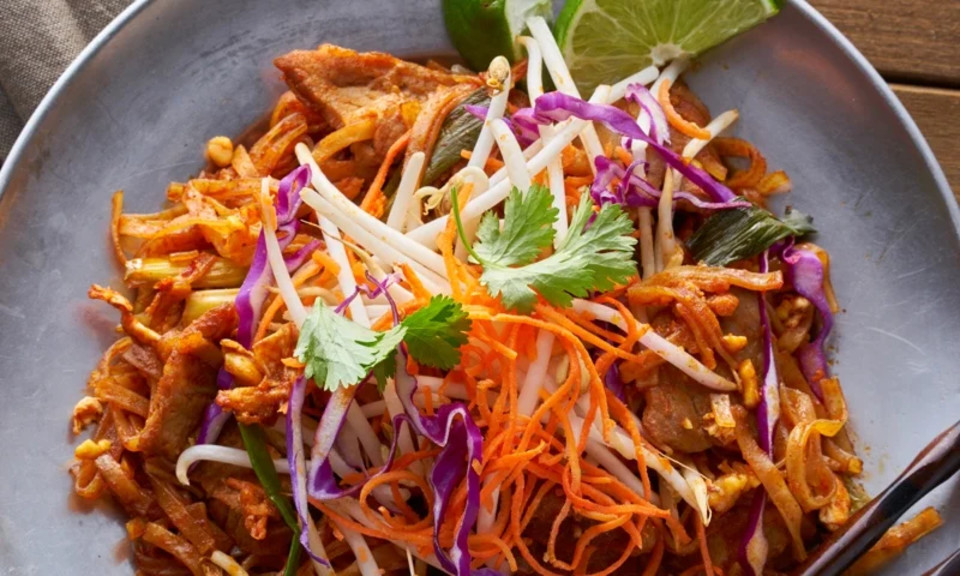 Charles
My best friend and I have been such fans of the orange peel chicken that we never wanted to try anything else. But recently, undoubtedly swept up in the thrill of the GOT marathon we were watching, we ordered two new dishes: the citrus soy spareribs and the kale and cashew salad. Well our boldness was rewarded as both dishes were completely delicious! The spareribs were the most convincing meat substitute either of us had ever tried and the salad finally revealed to me the mass appeal of kale. Basically, if you're looking for tasty AND healthy, you can't really go wrong here.
Lara
I love this food and this place deserve an A+
Dining in has been a pleasant experience with warm service provided by lovely staff. Delivery has always been faster any any other delivery I have ever experienced. TOP PICKS > the fresh rolls, the pad see ew with the pepper stake. But do try the soup of the day on Thursday (coconut) and their white wine sangria, which are so incredible!
Charley
Order arrived 10 min earlier than expected, and was brought to my hotel room. I really appreciated that as Im traveling for surgery. Yellow curry was great and was much more food than I expected. Definitely more than enough for 2 people. I also had the spring rolls, which were fantastic! There was enough dipping sauce for all 4 rolls. Will order from again!
Zari
The website says that Vegan Glory won't deliver to my address, even though I am less than a mile away from their address. I called Vegan Glory and they were happy to deliver for free. It took about an hour to deliver the food. Great food! I've ordered from them three times and it has always been super tasty.
elizabeth
New favorite. I'm not even a vegan or vegetarian, but that soy chicken is so effing delicious, I may never eat a real bird again. I don't even care that they forgot my rice. Tofu Satay was good, but Thai Vegan on Main in Santa Monica still wins the prize for tofu satay.
Nicholas
Love this place! Lots of options and always delicious
Philip
Best mock meat Ive had. Try the chicken skewers!!
Nick
Vegan Glory has some of the best vegan food in town.
Brie
Always good! Delivery a bit slow but worth it.
Charlie
Amazing food. The vegan carrot cake is delish
About us
Asian, Dinner, Eclectic, Lunch Specials, Vegan
Today

Delivery: 11:00 AM - 8:30 PM

Takeout: 11:00 AM - 8:30 PM

Delivery

Monday:

11:00 AM - 8:30 PM

Tuesday:

11:00 AM - 8:30 PM

Wednesday:

11:00 AM - 8:30 PM

Thursday:

11:00 AM - 8:30 PM

Friday:

11:00 AM - 8:30 PM

Saturday:

11:00 AM - 8:30 PM

Sunday:

12:00 PM - 8:30 PM

Takeout

Monday:

11:00 AM - 8:30 PM

Tuesday:

11:00 AM - 8:30 PM

Wednesday:

11:00 AM - 8:30 PM

Thursday:

11:00 AM - 8:30 PM

Friday:

11:00 AM - 8:30 PM

Saturday:

11:00 AM - 8:30 PM

Sunday:

12:00 PM - 8:30 PM
Vegan Glory prides itself on its cleanliness and has consistently received an "A" rating from the Environmental Health Department. The open kitchen lends itself to the restaurants relaxed atmosphere and allows customers to view the quality of the ingredients and superior preparation firsthand, particularly when seated at the bar. Traditional tables and chairs are also available. The staff at Vegan Glory is cheerful and attentive and always helpful in accommodating customers with special dietary needs. Vegans and non-vegans alike are sure to be pleased with the menu that offers a wide variety of dishes, many with a Thai or Thai fusion influence. A full range of appetizers, entrees, and desserts tempt the taste buds and encourage culinary exploration. All ingredients are strictly vegan and most are organic.